How did PacMARA start?
In 2003-2004, PacMARA arose from a series of workshops that brought together diverse stakeholders interested in the Northwest marine region of coastal British Columbia. These regulators, practitioners, and advocates for the sea recognized a need for cooperative science-based knowledge in order to achieve an ecosystem-based management (EBM) strategy and set of guiding principles for BC. Responding to this need, PacMARA was formed and began operating soon after.

In 2005, PacMARA was formally incorporated as a British Columbia not-for-profit society. In 2006, we received a grant from the Gordon and Betty Moore Foundation to expand our capacity building services to the BC and larger Canadian marine planning community. In 2010, while funded through federal grants and service provision, PacMARA began to lead international trainings and workshops, and started facilitating groups working towards advancing EBM and marine spatial science and planning. Our goal is to and encourage informed use of multi-disciplinary marine science to further effective and multi-objective ecosystem-based decision-making.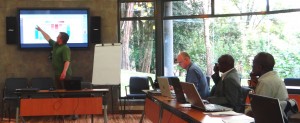 Major accomplishments
Over the past ten years PacMARA has:
Enabled Good Practices: We have hosted two international workshops to address the challenge of using marine spatial planning tools and to gather case studies and lessons learned, which have resulted in publication of the Marxan Good Practices Handbook and comprehensive user manual, both available in English and Spanish;
Built Capacity and Informed Planning: We have established an international Marxan capacity building and training program with 13 trainers operating in English and Spanish, in partnership with the University of Queensland, to promote well-informed systematic spatial planning through 22 trainings to-date;
Facilitated Learning and Collaboration: We have organized and led 13 workshops for senior representatives of multiple agencies to explain the role of decision support tools in marine spatial planning processes, including capabilities, components, recommended methodologies, socio-economic considerations, and stakeholder involvement;
Guided Decision Support Tool Use: We have co-created the Decision Guide for selecting and using decision support tools for marine spatial planning (with the Center for Ocean Solutions, Stanford University) and an invited training module for selecting ecologically and biologically significant areas (with the Convention on Biological Diversity);
Furthered Ecosystem-based Management: We have organized and facilitated three workshops and two working groups to collaboratively construct a strategy roadmap for ecosystem-based management (EBM) implementation ("Charting a Course for Sustainable Prosperity"), developed a set of principles describing the context, purpose, and process of EBM ("the Sidney Consensus"), and a gap analysis of marine EBM knowledge in BC;
Aided Spatial Planning Decisions: We have analysed conservation and marine/ terrestrial resource use options and identified potential use/interest overlaps, including (1) providing options for Environment Canada to recommend networks of protected areas, zones for resource extraction, and areas of indigenous use in the Territory of Nunavut, (2) assessing the proposed Marine National Wildlife Area in the Scott Islands, home of western Canada's largest seabird colonies, by for the Province of British Columbia and Canadian Wildlife Service, and (3) facilitating and preparing a Canadian Science Advisory Secretariat report on the establishment of a science monitoring program for the Bowie Seamount Marine Protected Area with Fisheries and Oceans Canada; and
Developed a Community of Practice: We have engaged a large group of researchers, planners, managers, industry groups, stakeholders, and non-profit organizations in the Pacific Northwest around marine EBM implementation by organizing learning exchanges (funded by the Government of Canada, the Moore and Packard Foundations, and the University of British Columbia) and fostering the creation of an online EBM meta-database to better connect and inform planners, managers, researchers, and stakeholders in the region.
Please download an information sheet on PacMARA here or contact Heather Coleman or Norma Serra for more information.
PacMARA represents the marine community though our staff as well as a dynamic and inclusive Board of Directors and Advisory Board, with membership from the provincial and federal government, academia, NGOs, and private firms.
We rely on your donations to remain impartial, and continues to exist because of people just like you. Tax receipts are provided with all donations: Please consider donating today!