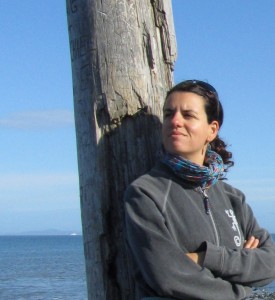 Norma is PacMARA's Program Manager. She also works as Research Associate at University of Victoria, British Columbia, Canada.
Norma completed her B.Sc. in Marine Biology in 2001 at Fairleigh Dickinson University (USA), after which she worked as a NMFS fisheries observer in Alaska for 5 years.  In 2005, Norma enrolled in a one-year GIS advance program in her home country, Spain.  In January 2008, she enrolled at University of Victoria to pursue her M.Sc. in the Geography Department, with Dr. Rosaline Canessa and Dr. Patrick O'Hara (CWS-EC) as supervisors.  She completed her M.Sc. in July 2010 on modelling chronic oil pollution events off the west coast of Canada.  Since then Norma has been working as Research Associate in a number of projects related with conservation, spatio-temporal analysis of marine activities and risk assessment in Canadian waters.
Norma's roles with PacMARA are to represent PacMARA locally, participate in activities related to marine ecosystem based management, marine spatial planning and associated science policy development, investigate and act on opportunities that may arise from local, regional and international marine planning and activities.  Norma also leads the training program organizing and delivering training courses around the world both in English and Spanish.
Norma Serra-Sogas can be contacted at nserra(at) pacmara.org