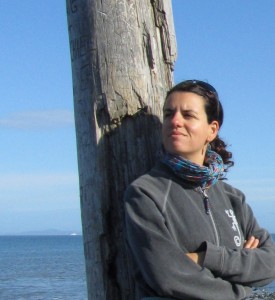 Norma completed her B.Sc. in Marine Biology in 2001 at Fairleigh Dickinson University (New Jersey), after which she worked as a NMFS fisheries observer in Alaska for 5 years.  In 2005, Norma enrolled in a one-year GIS advance program in her home country, Spain.
After completing her program in Spain, Norma traveled to Victoria to work as a research assistant with Dr. Rosaline Canessa for 6 month.  Her main tasks were the visualization and exploratory analysis of observed oil spills and surveillance flights performed in the west coast of Canada.   In January 2008, she enrolled at University of Victoria to pursue her M.Sc. in the Geography Department, with Dr. Rosaline Canessa and Dr. Patrick O'Hara (CWS-EC) as supervisors.  She completed her M.Sc. in July 2010 on modelling chronic oil pollution events off the west coast of Canada.  After that, Norma became Project Manager of Oil in Canadian Waters project.  This two-year project is funded by Transport Canada and Environment Canada and focus on building an statistical model to predict illicit oil spills occurrences in the Atlantic, Pacific and Great Lakes regions, as well as the analysis of shipping traffic patterns in the Altantic, Pacific and Arctic waters.
Norma's roles with PacMARA as Program Manager are to represent PacMARA locally, participate in activities related to marine ecosystem based management, marine spatial planning and associated science policy development, investigate and act on opportunities that may arise from local, regional and international marine planning and activities, assist the PacMARA Science Advisor in organization and delivery of PacMARA training courses and publications locally, regionally and internationally, and assist in the writing of funding proposals and reports.
Norma Serra-Sogas can be contacted at nserra(at) pacmara.org