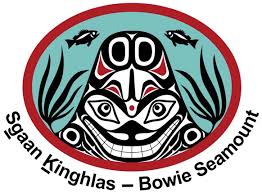 Bowie Seamount is located 180 kilometres west of Haida Gwaii (Queen Charlotte Islands) in the northeast Pacific, off the coast of British Columbia. Also known by the Haida as Sgaan Kinghlas, which means "Supernatural Being Looking Outward," Bowie Seamount is the shallowest known in Canada's Pacific waters. It rises from a depth of approximately 3,000 metres to within 24 metres of the sea surface. A marine protected area in the vicinity of Bowie Seamount will protect a complex of three offshore seamounts – Bowie, Hodgkins and Davidson seamounts.
Download the scoping study for the development of scientific advice on Bowie Seamount here:Guénette, S. and Alder, J. 2008. Scoping study for the development of scientific advice on Bowie Seamount. Pacific Marine Analysis and Research Association.
Working closely with DFO staff, PacMARA designed and delivered a workshop and generated a CSAS report on the establishment of a science monitoring program for the Bowie Seamount Marine Protected Area. This workshop was the first time that PacMARA used the innovative Challenge Dialogue for creating effective communication and structuring the response from the workshop.
PacMARA was assisted in this undertaking by Terje Vold (Innovation Expedition), Dave Nicolson (Black Coffee Consulting) and Caroline Dawe (WWF-Canada). Rosaline Canessa (CORAL – University of Victoria) spent considerable time editing the final report.