Ecosystem-based management (EBM) is critical to the sustainable use of natural resources; however, taking EBM from the conceptual to operational stage is daunting. "Charting a Course for Sustainable Prosperity" is an intuitive architecture to guide implementation of EBM. The Chart is intended to provide a framework for consistent legislation, planning, regulation, enforcement, monitoring and adaptive management, spanning jurisdictional and geographic scales. By outlining objectives relevant to marine multiple EBM efforts, the Chart acts as a guide for processes in different phases of defining, incorporating, planning, and implementing marine EBM.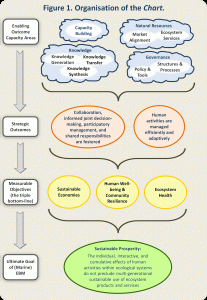 The Chart describes strategic outcomes that depend on necessary and sufficient intermediate and primary outcomes. The ultimate desired outcome (i.e., the purpose of marine EBM) is to ensure "sustainable prosperity". Strategic outcomes necessary to reach this goal have been grouped into the people, planet, and profit categories of the triple bottom-line, in this case termed Sustainable Economies, Human Well-being & Community Resilience, and Ecosystem Health. Enabling outcomes are included in (or between) the capacity areas of Governance, Natural Resources, Knowledge, and Capacity Building.
The architecture of the Chart has drawn upon success stories from the past to guide accomplishments of the future. It can be used in a number of ways, depending on the detail necessary for each management context. In its general form, the Chart can help governments and stakeholders examine key issues and align expectations around EBM components at a broad level. When further articulated in the context of a particular management problem, the Chart will help relate and explain specific aspects of resource use and conservation planning, identify and prioritise important linkages and dependencies, and direct the development of implementation plans.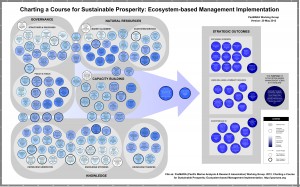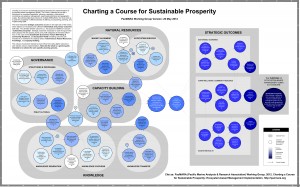 The Chart was refined from outputs of the Marine EBM Implementation Workshop by: Heather Coleman (PacMARA), Edward Gregr (UBC IRES), Melissa Evanson (Fisheries and Oceans Canada), Nicholas Irving (Parks Canada), Grant Murray (Vancouver Island University), James McIsaac (Commercial Fishing Caucus), Anoma Patirana (Environment Canada), and Norma Serra-Sogas (PacMARA).
To read a short overview of the purpose and how to use the Chart, please click here.