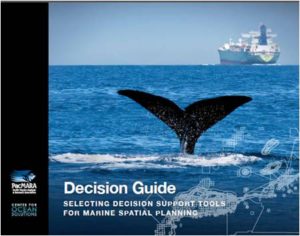 A Decision Support Tool Guide produced by the Center for Ocean Solutions (COS) and PacMARA is intended to assist practitioners in selecting appropriate decision support tools (DSTs) that can help them conduct marine spatial planning in their own jurisdictions.
DSTs that use interactive software including maps, models, communication modules, and additional components can help solve problems that are too complex and multi-faceted to solve using human intuition or conventional approaches alone. Used properly, planning tools can:
Save time, energy, and resources
Guide users through difficult steps of decision making processes so they can quickly move from data analysis to final decisions
Repeat analyses with relative ease and reduce redundancy by leveraging the work of others
Reduce requirements for human expertise
Help users explore a wider range of alternatives
Document decisions about inputs and parameters
Increase the understanding of planning requirements and limitations for multiple sectors in the planning process.