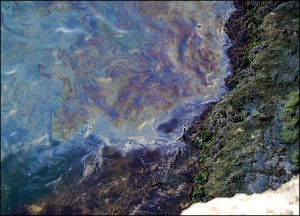 It's hard to think about anything but the BP oil spill on this year's World Ocean Day.
As hundreds of thousands of litres of oil gush into our global ocean from the offshore oil rig in the Gulf of Mexico, today of all days, we need to think about the health of our oceans.
Everyone agrees that what is happening in the Gulf is a travesty and that we need to prevent something like that from happening anywhere ever again.
Where does that leave us on Canada's Pacific Coast?
Currently there is a moratorium for drilling for offshore oil and gas in Canada's Pacific waters.  However, the risk of an oil spill remains because:
(1) The moratorium is not legally binding and discussions continue about developing the industry.
(2) Approximately 3.9 million tonnes of Alberta crude oil are shipped off from Vancouver every year.
(3) the Enbridge Pipeline from Alberta's tar sands is proposed to bring over half a million barrels of oil everyday to Kitimat, where it will get loaded onto ships that will navigate through rough waters of BC's central coast to make it's way to overseas markets.
The potential for an oil spill exists here on our coast.
How do you feel about that?
What do you think we should do in face of this risk?
How should decisions about the important ocean issues be made?
When so much is at risk, it is important to take a holistic view and assess the risk and possible cost across a range of geographic and time scales.  How are various industries, conservation projects, communities and jobs negatively or positively affected? How can we examine a broad range of variables concurrently to understand the tradeoffs?
These questions highlight the need for comprehensive marine planning and ecosystem-based approaches to manage our marine resources.  Tools such as InVEST can help us evaluate these important tradeoffs.
Incorporating the needs, considerations and information of the various stakeholders, governing bodies and First Nations in a transparent and inclusive manner offers great promise to ensure that our decisions about mixing oil and water will be the best decisions possible.
Take a moment to reflect on this today, on World Ocean Day, because after all, it's one big ocean we all share.